Issue No. 11 2004
Country Landscapes Ltd. Est.1991

Add value to your property -Winter is the best time to revamp your exterior rooms

People to rely upon! In 2003 Country Landscapes provided a 100% reliable maintenance service

FACT- untidy gardens can attract burglars as often these belong to the elderly on their own who can no longer maintain them.

Above: Exotic and fast growing Eucalyptus with Virginia creeper

Left: Passiflora(Kiwi)

Below: Certificate of Competence

This is the new look Professional Edge Newsletter - we hope you enjoy it & pass it on!

*********** FREE GARDEN HEALTH CHECKS - THIS IS PART OF OUR SERVICE DON'T MISS OUT call Anita on 01204 40 22 22 ***********

WARNING : Spiralling costs mean unscrupulous contractors risk working uninsured. Ask for a copy of your contractors insurance. Your home insurance is unlikely to cover damage caused by your contractors!

Raising the standards - professional qualifications you should expect!

Modern and traditional apprenticeships have changed, but you can be pretty sure someone who has successfully completed their apprenticeship has gained plenty of qualifications along the way. National Proficiency Test Council (NPTC) & other qualifications are explained....

View the ProAsset Garden in 3-D at country-landscapes.com

STOP PRESS

More Features in this Edition....

Review 2003

The Way Forward -Garden Husbandry

Country Landscapes' creativity seen on BBC TV News!

Left: Azalea - suitable for most gardens

Below Left: Variegated Ligustrum (makes an ideal evergreen tree for a small garden)

Below Right: Cotoneaster

Country Landscapes Garden Design Service The ProAsset Garden at the RHS Flower Show

Left: The Mediterranean themed ProAsset Maintenance garden constructed by the Country Landscapes team at the RHS show.

Gardening celebrities Diarmuid Gavin, Charlie Dimmock, Monty Don undertook previews and programmes during the RHS Flower Show.

Issue No. 11 2004

The Royal Horticultural Flower Show at Tatton Park in July 2003 marked the launch of Country Landscapes sister company ProAsset in a blaze of colour and inspirational style alongside famous names and exhibitors....

"an English garden with a Mediterranean theme, though for over a week in the extraordinary heat, it looked more like a Egyptian quarry in Cairo"

Over 107,000 people visited the show!

SHOW GARDENS! If the TV programmes have inspired you we have the PLANT SHOWCASE to brighten up any garden for year round colour and interest. Don't leave it any longer - call Anita on 01204 40 22 22 for a make over, or try our new

Selecta Plant Service 01204 40 22 22

BEST SELLERS FOR COLOUR PLANT THEM NOW!

The Country Landscapes team met

Diarmuid Gavin

(above) when he visited the ProAsset Garden at Tatton 2003 during filming for BBC television.

Inspirational Makeovers

Before

After

The ProAsset Garden

How to create a new border display! Amaze your friends with your gardening style - by revamping those tired features with the latest plant varieties doesn't cost a lot and adds value! Call 01204 40 22 22

A Garden Makeover in Rossendale

Brighten up YOUR Outer Spaces now!

01204 40 22 22 Email: sales@country-landscapes.com Text: 07966 361 511
The Royal Horticulture Flower Show - Lee Thorne
This was a challenge I could not resist! It's not often you get to design and build a full sized show garden at a prestigious RHS show. The design and selection stages were rigorous, with planning starting last Autumn, approval was given in February and July soon came around swiftly. The build up was hectic with only 20 days to bring everyone together. We had already spent 3 days visiting our plant sponsors - Mahood's to pre-select and collect plants which, we hoped, would be at their best in 3 weeks time.
Onsite, out of the 18 show gardens, we had a good location with a back drop of mature trees. On Sunday 6th July, once the deer and sheep had been fenced out Brendan and myself set about marking out a difficult design. It was quiet, apart from the show manager Maxim De Soissons, Becky Roberts and Hazel Wilson, and some sheep, we were just about the only ones within the show ground.
Days went quickly with John (Anita's father who [was?] volunteered to help, working hard collecting and arranging materials, selecting the best plants and arranging deliveries; and it was Thursday 10th when we got back onsite to actually make a start. Mechanical excavators had set upon the adjacent plots with teams of landscapers - like ants working furiously - transforming the meadowscape. Visually - in comparison we had yet to get started!
Anxiousness increased each day, the drive from the main gates felt like an eternity until reaching the brow of the entrance to the show ground, with the picture changed daily due to another marquee, more vans, banks of portaloos, pavilions, and scaffolds for massive floral marquees.
Our aim was to build an English garden with a Mediterranean theme, though for over a week in the extraordinary heat, it looked more like a Egyptian quarry in Cairo. With John making a first class job of the Indian sandstone paving, Chris Lucas constructing the timber decking and pergola, and backup from Robert, Craig Goldsworthy and Keith Brierly, progress was soon made. Evenings would quickly fall, proprietors would work late applying finishing touches in the cool evenings. We created a high maintenance garden to show the amount of work involved in maintaining a garden to it's best and demonstrate ProAsset Manger software - which we use to plan garden maintenance throughout the year.
Each day, the drive would take forever due to convoys of HGV's, and the scene at the brow was increasingly awesome, with hundreds of marques, food courts, people everywhere - over 800 exhibitors, flower beds, sculptures, and a myriad of "Back to Back" gardens. The showcase was coming together frighteningly fast. Long days flew by and the ProAsset garden was ready for the Press and Media on Friday 18th - well in time for the judging and opening on Tuesday 22nd. Our marquee and signs were erected, we set out the interior, providing room for ProAsset Manager demonstrations, as well as space for plants - with Kevin Christopher on plant sales.
Judgement Day We hadn't entered to get awards, however the judges came around individually and in groups over two days, and the wait for the results was nerve racking. Finally, the chairman of the judging panel - Robert Hillier, OBE called round and said we had narrowly missed a bronze award. As most of the other show gardens had cost tens of thousands, we thought this was admirable.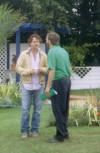 Show Time! The ProAsset Maintenance Garden featured twice on a prime time programme in front of millions of viewers. National television coverage was maximised with gardening celebrities including Diarmuid Gavin (below). Gordon Burns and Dianne Oxberry presented highlights of this event on the BBC news. Further coverage was on local radio and the BBC web site, so both Lancashire Homes and Gardens - our aquatic sponsor were delighted.
Everyone involved did a brilliant job. Visitors were really impressed with our garden and liked the practical Mediterranean theme and planting. Main plants within the scheme consisted of exotic phoenix palms colourful ground cover including rainbow phormium, red and white spirea, cool Papillon lavender and deep blue spikes of perovskia, punctuated by fiery red standard photinia standards, beautiful hibiscus, variegated willow and red roses, plus Mediterranean grape vines on the pergola. If you missed the show gardens you can still see them on Web Cam - take a virtual tour!
Raising the standards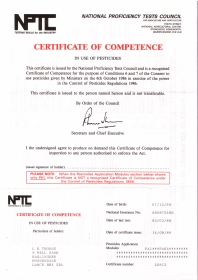 Gardening is like any other skilled job, you do not become a professional because one has good intentions or has done a bit of D.I.Y! Most professionals care enough to get qualified (and get their staff qualified) to comply with the legislation, and raise the standards within the industry.
Why risk having unqualified people on your property? Many people's understanding of a specialist, professional or tradesman is one who has undertaken an apprenticeship. Modern and traditional apprenticeships have changed, but you can be pretty sure that someone who had successfully completed their apprenticeship has gained plenty of qualifications to prove their competence along the way.
Employing someone without seeing their certificates is like letting someone drive your car without them possessing a licence! Horticultural qualifications you should expect include the National Proficiency Test Council's Certificates. NPTC Certificates are like driving licences, they are usually legally required or needed to prove competence in undertaking specific tasks. These and others are highlighted below:-
Higher qualifications desirable include National Diploma, Licentiateship LCGI in Horticulture, Master of Horticulture M.Hort; but the essential qualifications you should expect are:-
| | |
| --- | --- |
| | NPTC PA1 PA6 for spraying, |
| | NPTC for Chainsaw and Tree work |
| | NPTC Plant / Excavator operators certificate |
| | City & Guilds I II III or N.V.Q. 1 2 3 |
| | B.T.E.C National Certificate |
| | RHS General Certificate |
Horticultural Services

Environmental Care - An EU re-appraisal of certain insecticide groups due to concerns over their effects on human health has meant that some insecticides have now been withdrawn. A list is available at www.rhs.org.uk or via the link on our online newsletter. Withdrawn insecticides cannot be used legally after 31 Dec 2003, so they must use them up before the deadline. Waste-disposal departments of local authorities should have information regarding the safe disposal of garden pesticides for which the legal-use date has expired
Country Landscapes is proud to offer:-

Qualified horticultural advice

For any onsite jobs or horticultural work you require please contact Anita on 01204 40 22 22 or Fax a Service Request Form

Text a plant

Want to know the name or details of a plant in your garden? Get 10 free plant ID's per year. Simply text your plant photo to 07966 361511 or email HS@country-landscapes.com and we will identify it for you!

Selecta plant service

Don't leave bare soil - fill it! Call us and we will recommend and supply and plant the right plant to your door!
The Way Forward - Garden Husbandry
Good practices reduce the need for pesticides, for example, two tasks that reduce the need for using selective weedkiller on lawns are:-
(1) The Correct application of fertiliser and iron for lawn care encourages healthy grass growth, reducing the scope for weed invasion and unsightly moss patches.

(2) Annual scarification (raking out all dead thatch) between September and April, will help control moss and weeds in lawns.
Use of chemicals on edible plants has also been tightened up and fungicides and insecticides can now only be used on those fruits and vegetables listed in the instructions. It's likely we will have to show greater tolerance of the effects of pest and diseased such as blemished fruit skins and reduced yields.
Where pesticides are required, for example for cost effective weed and hazard control in areas such as paths and block paving (March/April & August) legally we have a duty of care to ensure they are applied correctly. It is imperative that anyone using pesticides reads and follows all of the instructions or 'statutory conditions of use' on the container. This includes information that is legally enforceable on dilution rates, types of plants that can be treated, and number of permitted applications and since 1989 contractors applying them must have their PA1 and PA6 certificates to do this.
Country Landscapes Review Anita - Operations Supervisor
We have had an exciting summer, and managed to enjoy the two heat waves! 2003 has been a very busy year for Country Landscapes along with keeping up with the everyone's maintenance and building our first show garden at Tatton Park in July. We have welcomed quite a few new customers and recently took on a large commercial maintenance contract at the end of the season. We've also been actively reviewing our services, checking the quality is correct and prices competitive, reviewing and adding to our range of services. We are always on the look out for new and better ways to do things!
Although I haven't always been on site with Craig and Keith this year after returning from Maternity leave, I would like to point out that I'm still here to discuss any gardening matters, or other queries or concerns you may have - on 885117, or alternatively e-mail me - anita@country-landscapes.com.
I'm also being kept very busy with our new addition to the Country Landscapes team, Megan, who was 1 on November 24th. She is bright, has lots of energy and appears keen to learn the business.
Seasonal Essentials!
During the Autumn customers should have received winter 'client loyalty discount' forms, if not please contact me. Not only do you get qualified staff but also highly competitive discounts with up to 20% off our summer labour rates, for tasks booked in advance for undertaking from November until February in the garden:-
| | |
| --- | --- |
| | Shrub beds - pruning, gapping up, replacement |
| | Hedge and conifer pruning |
| | Tree care - removing dangerous, dead, or decadent branches |
| | Lawns - Scarifying & moss killing - essential for good looking lawns |
| | Furniture maintenance - collect and treatment service |
| | Paths - jet cleaning to help prevent costly slip injuries |
| | Fence Repairs - panel treatments / heavy duty panel replacement |
| | Autumn Winter - Seasonal Work programmes |
| | Other work - from hedge laying to levelling patio paving |
| | Slimy green walls and rockeries - bring out the beauty of the stone with an annual jet clean - you wouldn't leave your car that dirty! |
Ring now for a free onsite consultation, and if you prefer we can produce a seasonal work programme specially for your garden!
Standing Orders
All clients who have been on Standing Orders will be aware that these are due for renewal next season, new forms are being printed for current Standing Order clients. If you are not on Standing Order, but would like to save time by doing so, please don't hesitate to contact me on 01204 40 22 22.
Garden Revamps!
Finally, not forgetting National Tree Week at the time of writing, winter is actually the best time for revamping your garden. Planting of specimen shrubs and trees, and other features such as hedgerows is also done at this time. If you order during the winter, you can save money, particularly if we use bare rooted instead of containerised plants.
Whilst you may be thinking about putting your garden to bed after the 2003 autumn senescence, when formerly green leaves turned to some of the most fiery hues seen in years, don't forget there is still time to plant bulbs and shrubs in tubs. Shrubs such as Skimmia japonica (as shown) or spiky red or yellow phormiums give a guaranteed colourful display!
We hope you've enjoyed the 11th Edition of Professional Edge. If you have any questions, suggestions, or require more information on any aspect of our service please call us on 01204 40 22 22 or visit country-landscapes.com.
Thank you for your custom, we wish you all the best for the season, and look forward to seeing you soon!


Spectacular Skimmia berries (above)
Tel: 01204 40 22 22 www.country-landscapes.com sales@country-landscapes.com
Professional Edge Winter 2003/2004 Issue No.11 (c) 2003 Country Landscapes Limited