Corporate & Local Authority Ground Maintenance Contract Procurement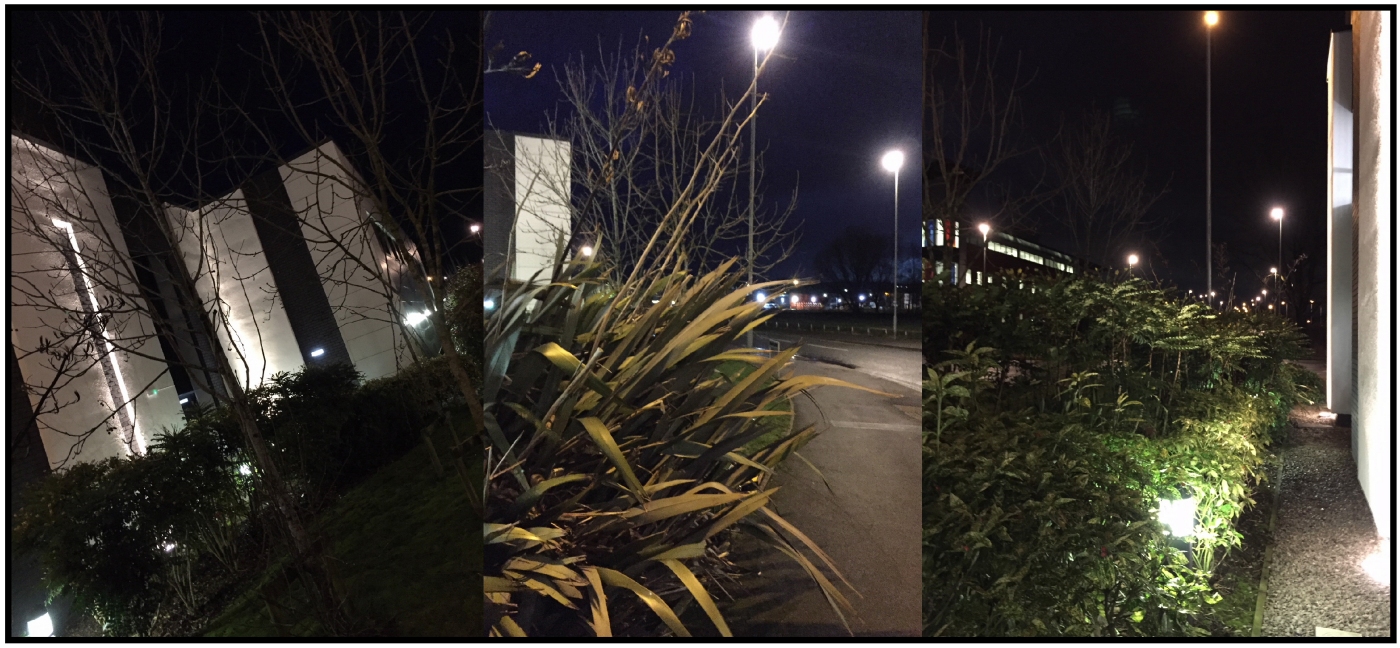 Why clients choose Country Landscapes Ltd
Country Landscapes Ltd. specialise in providing QUALITY grounds services... a "one stop shop" perfect for those looking for the individual attention that a smaller company can deliver, whilst being able to handle the complexity of larger contracts...
| | |
| --- | --- |
| | Retail stores, shops, supermarkets |
| | Commercial premises |
| | Car Show Courts |
| | Bus and Railway Stations |
| | Public accessible areas, hospitals, health centres, precincts, shopping centres |
| | Local Authority Contracts |
"THEIR DEDICATION TO SEE THE JOB THROUGH... WHATEVER WE ASK OF THEM IS FANTASTIC.... ALWAYS DELIVERED A GREAT SERVICE & NEVER LET US DOWN"
Several studies suggest it takes just seven seconds to form a judgment when introduced to someone new – and 55 per cent of that is down to visual reaction! When a prospective customer visits, your grounds and surrounds are the first thing they see, so lets put ourselves into their shoes....
Rightly or wrongly as the old adage in the restaurant business goes "people judge the state of your kitchen by the state of your toilets" would you trust your money, health or reputation with a company who operates from poorly maintained or scruffy premises? It's important, but often overlooked, to realise our premises represent our business!
The difference at Country Landscapes is we understand things from our customers viewpoint, and that's demonstrated in our CULTURE - all our staff ...
know their work reflects on you and your business

take ownership of issues - from start to finish - we do, what we say we're going to do

S

AVE our clients' TIME and MONEY by doing the job right, 1st time
It's not just about litter in flower beds. We all know of operations with glossy brochures that put shareholders, not customers or staff first. Workers weedkilling without PPE, trees ruined with strimmers or good plants being weeded - even trees being needlessly fell trees!
Hard won trust can be quickly lost in the age of social media.
Our friendly team are FULLY QUALIFIED in all aspects of horticulture, arboriculture, fine turf, sports fields, planting displays, to safer weed control.
As 3x IIP, staff undertake CPD - leadership are currently working toward CHARTERED status. With 3 decades of experience (incl. public sector contracts up to £1m) so we're well capable of handling larger private and public sector contracts within Manchester & Lancashire.
We actively monitor key aspects of our contract delivery plus Net Promoter Score enables us to benchmark against other leading companies.
Contract Notation Guide
Constructionline apply a unique notation formula developed over the years by key Buyers, industry leaders and government bodies. The formula looks at a Supplier's financial ability and established track record for successfully delivering contracts in each work category to a certain value. The notation guide is calculated by bringing together the last reported annual turnover, net assets, and the average value of references obtained. References must be for work completed within the last four years and include a value for the work completed.
Typical contract capability values are available for each of the following work categories - for example - our Landscaping category has a current Notation Value of £57,246.00.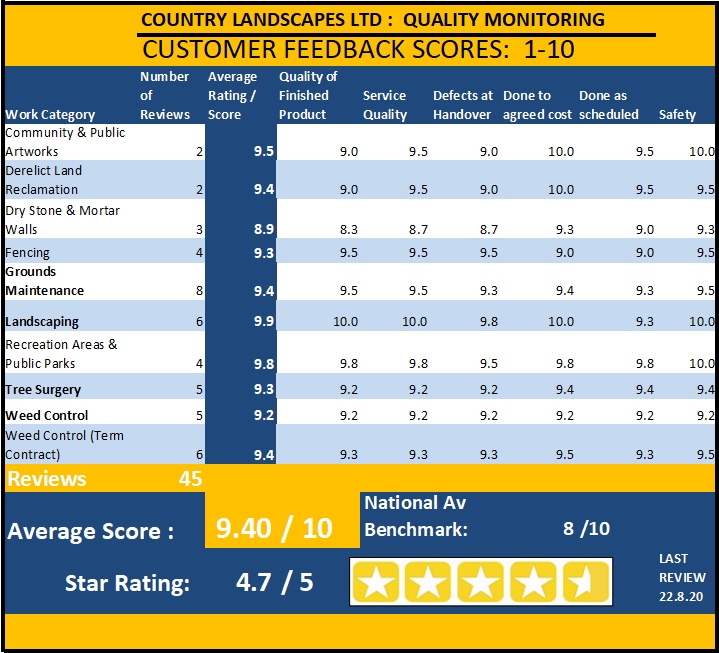 We also monitor our the quality of our work through Customer Feedback Scores - the above customer reviews show and average score of 9.4 out of 10.
For more details and copies of all our policies below, login to the Construction Line web site.....
| | |
| --- | --- |
| | Responsible Environmental Management |
| | Equality - equal pay - diversity |
| | Auditable records of work & chemical application |
| | Acclaim Approved Health & Safety Policy |
| | Responsible Procurement |
| | Quality systems, |
| | Data & asset security policies |
| | Training & CPD |
| | Management & Monitoring Systems |
"A REAL CONTRAST TO OTHER CONTRACTORS WE'VE HAD - NEVER ANY EXCUSES OR MESS - THEIR RELIABILITY & ATTENTION TO DETAIL IS GREAT... HAVE MADE A MASSIVE CONTRIBUTION TO THE AESTHETICS OF OUR RETIREMENT VILLAGE NOT BEEN ACHIEVED BY OTHER CONTRACTORS"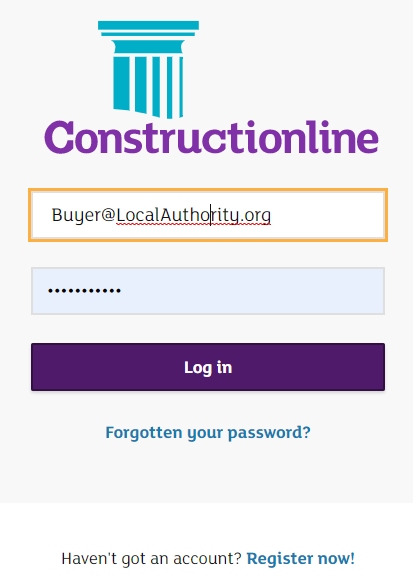 6 Key Service Aspects
We monitor 6 Key aspects of our contract delivery :-
| | |
| --- | --- |
| | Service Quality |
| | Product Quality |
| | Defects |
| | Done to cost |
| | Done on time |
| | Safety |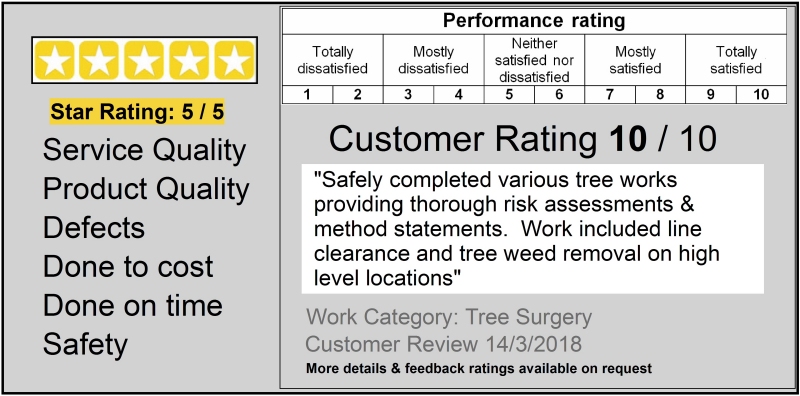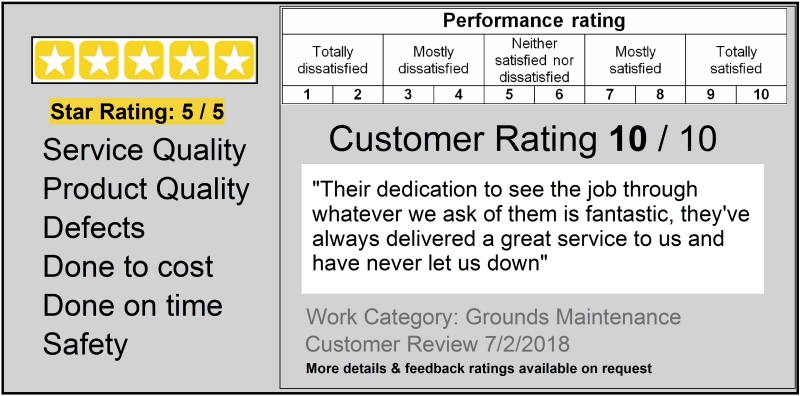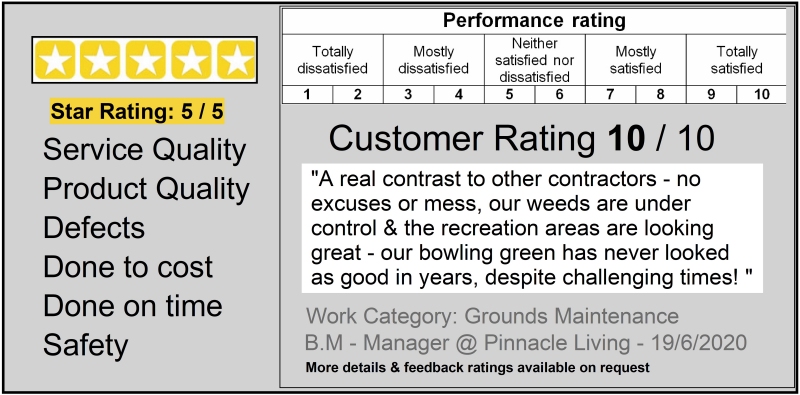 Many long standing clients have been with us since 1991 - Bury MBC, private clubs to Internationals, Housing Associations - Bolton at Home. Often we can gain match funding on our customers behalf. We can also help dovetail what we do, with your ENVIRONMENTAL POLICY so you can MEASURE THE IMPACT of your green spaces.
6 Business BENEFITS of utilising Environmental Natural Capital
We're happy to help you with all the above and more. For all your requirements please give us a ring or drop us an email today!